Nationals 2018 – District 6 staves off District 10 to narrowly retain Cycling Title
ON day two of the 58th National Schools Cycling, Swimming and Track and Field Championships, District 6 (Corentyne) narrowly retained their cycling title after a strong performance from their athletes helped stave off a stern challenge from District 10 (Upper Demerara/Kwakwani).Despite a tardy start at the National Park, the cyclists treated the small crowd to a day of thrilling action under fair weather conditions. When the unofficial results were revealed, District 6 had tallied up 245 points, just 8 ahead of District 10 who had 237 points.Those two districts were some way ahead of their closets rivals, District 15 (New Amsterdam), who were in third position on 130 points.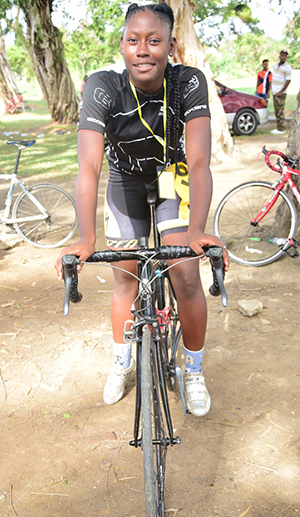 District 10's Abigail Jeffrey, who won the Girls 25Km Road Race on Sunday, added two Gold medals and a Silver yesterday at the Cycling Championships in the National Park.Ajay Gopilall, David Hicks and Shabina Ramoo were some of Corentyne's most consistent performers, along with their fellow District 6 athletes who all pitched in to ensure that at the end of the day, District 6 had unofficially won the title for the second consecutive year.However, District 10's challenge was spearheaded by Oneal Rose and Abigail Jeffrey who copped commanding wins to launch their District's challenge.Rose won Gold in the 5000M Boys Open, 800M Boys Open and 1000M Boys Open races while Jeffrey, who had won the Girls 25Km road race on Sunday, added Gold to her name in the 3000M Girls Open and 400M Girls Open. She also copped silver in the 800M Girls Open.The day's action saw some thrilling encounters, especially in the 1500M events. First, Denzil Huntley (District 10) edged District 6's Ralph Seenarine to cop Gold in the Boys Open event while District 14's Roy Wilson had to settle for Bronze.On the distaff side of the 1500M Open event, Maria Carrington (District 7) was the surprise package as she convincingly beat Shabina Ramoo (District 6) to Gold while District 10's Crystal Hutson had to settle for Silver.The unofficial points standing is as follows:District 6 (Corentyne) – 245; District 10 (Upper Demerara/Kwakwani) – 237; District 15 (New Amsterdam) – 130; District 13 (South Georgetown) – 114; District 11 (North Georgetown) – 93; District 4 (East Coast Demerara) – 78; District 3 (West Demerara) – 75; District 14 (East Bank Demerara) – 61; District 7 (Bartica) – 42; and District 8 (Potaro/Siparuni) – 20.*Districts 1, 2, 9 and 12 had no points.The National Schools Cycling, Swimming and Track and Field Championships which is in its 58th year will continue today and over the next four days at the National Track and Field Centre, Leonora on the West Coast of Demerara with just about 1500 student and teacher athletes competing against each other for top honours.District 10 (Upper Demerara/Kwakwani) won their second consecutive and 16th overall title last year while South Georgetown (District 13) finished second and North Georgetown (District 11) third.